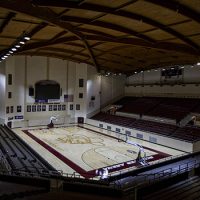 EKU Colonels Get a New Wood Floor
It took nearly the entire summer to complete, but the new court inside Eastern Kentucky University's McBrayer Arena is finished and being used by the school's varsity student-athletes.
The first home event scheduled to be played on the new court will be a volleyball match on Sept. 3 against Marshall University.
Kiefer USA installed the new playing surface.  It is the first time the court has been replaced since Alumni Coliseum was completed in 1963.  The new court is a Connor Floor and is made of grade one maple.  Besides the fresh look and design, the floor offers much more resiliency, less wear and tear on knees, and a greater traction and "spring" for student-athletes.
A Connor Floor is a sports floor system providing the stability of an anchored floor with the uniform resiliency of a floating system, consisting in general of a vapor barrier, blanket pad, steel channel, steel anchors, wood subflooring, maple flooring, sanding, sealers, finishes, game lines and wall base.
Alumni Coliseum (Paul S. McBrayer Arena) has been the home arena for Eastern Kentucky University basketball since the 1963-64 season when the team moved from the Weaver Health Building where it had a record of 225-51 in the previous 31 years.
The Coliseum is a massive physical plant and features a great triumph in architectural design with its wooden laminated cross-arched roof – the world's largest of its kind – spanning 309 feet and providing an unobstructed view of events held in the main auditorium. A total of 616,276 board feet of lumber form the 170 beams and roof, which arches gracefully 81 feet above the floor level. The wood is southern pine finished in its natural beauty.
EKU has a lot of momentum for their basketball programs right now, so they are taking advantage of it by not only rewarding their players but also the fans with this exciting new environment at the McBrayer Arena.