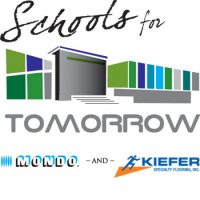 Mondo Launches "Schools for Tomorrow" Program
To deepen its relationship with schools and school systems, Mondo has developed MONDO – Schools for Tomorrow. This new program extends value-added benefits, premium service and economies of scale to customers who buy large quantities of Mondo products. Through the program, school system personnel who purchase a minimum amount of Mondo product will be eligible to participate in Mondo's Vision Committee, an advisory group that will help the company continue to improve its products to better serve schools' needs.
Mondo manufactures products for all school environments, including classrooms, corridors, labs, cafeterias, gymnasiums, weight rooms, locker rooms and multipurpose rooms. The company also makes outdoor running tracks and artificial turf fields. All of its products are made with the highest quality standards and are completely safe for students, teachers, administrators and staff.