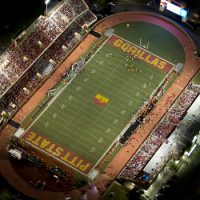 Piitsburg State Gorillas Choose Mondoturf
Pittsburg State Gorillas Choose Mondoturf for Carnie Smith Stadium
Lindenhurst, IL – April 13, 2012 – Kiefer USA has been selected to design and install artificial turf for the 2011 NCAA Division II National Champion Pittsburg State Gorillas.
The Division II football champs will be installing a state-of-the-art artificial turf system from Mondo at Carnie Smith Stadium in Pittsburg, KS. The turf system consists of Mondo's 3Nx monofilament fiber and their innovative thermo-bonded backing.Mondo's 3Nx turf fiber was engineered by Mondo as a "natural sliding feeling" fiber to resemble the characteristics of natural turf. The 3Nx fiber's semi-concave structure and unique composition create a durable turf surface with optimal dimensional memory and resistance to environmental factors. Mondo's thermo-bonded backing creates an incredibly strong bond with the fibers and is over 90% porous, improving field drainage by over 4 times that of traditional turf backing.
Tim Beck, Head Football Coach at Pittsburg State University, praises the Mondo system by saying, "We visited a number of facilities and feel like Mondoturf stood out from the rest. The look and feel of their turf is just different. We believe Mondo offers a great product, and we look forward to having their surface on our field."
Beck adds, "We have been very fortunate to have a strong tradition of excellence here at Pitt State, and we believe our partnership with Mondo will play an important part in our future success."
About Pittsburg State University
Founded in 1903 and located in Pittsburg, KS, Pittsburg State University offers over 100 areas of study for its 7,200 student enrollment. The PSU Gorillas compete in 13 men's and women's sports in the NCAA Division II Mid-America Intercollegiate Athletics Association (MIAA) division. The Pittsburg State University football program has won four national championships in 1957, 1961, 1991, and 2011 along with 30 conference championships in its 104-year history.
About Kiefer USA, Inc.
Founded in 1977 and based in Lindenhurst, IL, Kiefer is an award-winning, athletic surface design and installation company and is an authorized dealer of Mondo sports surfaces. Kiefer's experience in artificial turf design and installation include turf fields for football, soccer, baseball, and other field sports. Their reach spans across the country including turf fields at the University of Missouri, Northern Illinois University, West Liberty University, and Siena Heights University. In addition to artificial turf surfaces, Kiefer also offers design and installation for track and field, multi-purpose facilities, gymnasiums, weight rooms, locker rooms, and fitness facilities.