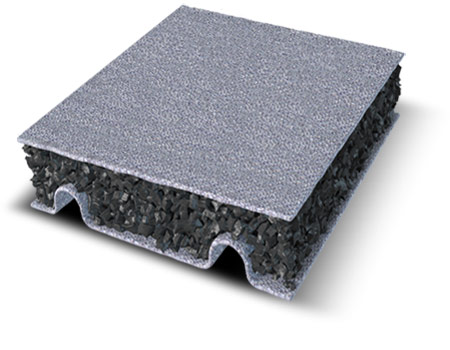 The Sustainable Way to Recycle Tires
Made of recycled tires triturated, treated and encapsulated sandwich-like between two polyester layers. The recycled rubber is encapsulated in polyurethane eliminating any contamination due to recycled tires.
Uniform and Controlled Playing Surface
The Fine-Tuned System is not poured in place like traditional turf underlayment. The Fine Tuned System eliminates the risk of compaction and migration of the granule compared to the traditional systems; this guarantees that the initial biomechanical characteristics of the field remain unchanged over time. Excellent shock absorption and energy return allow the athlete to perform at the highest levels avoiding excessive muscular fatigue. FTS does not compact or displace over time, thus providing safe impact conditions even in the event of partial or full infill displacement.
Superior Drainage
Unparalleled vertical drainage rate, lateral transmission, and water retention rate guarantee a 50% increase in drainage capacity versus the traditional interlocking polypropylene beads and drainage tiles.
Environmentally Friendly
The FTS granules are coated with polyurethane and glued together to create a resilient porous structure. The coating is protected from damage that friction would generate if granules were loose in the turf infill. It protects athletes and the environment from contamination of potentially carcinogenic substances (like heavy metals, aromatic amines, and polynuclear aromatic hydrocarbons) inherent in black rubber recycled tire granules.
For More Information