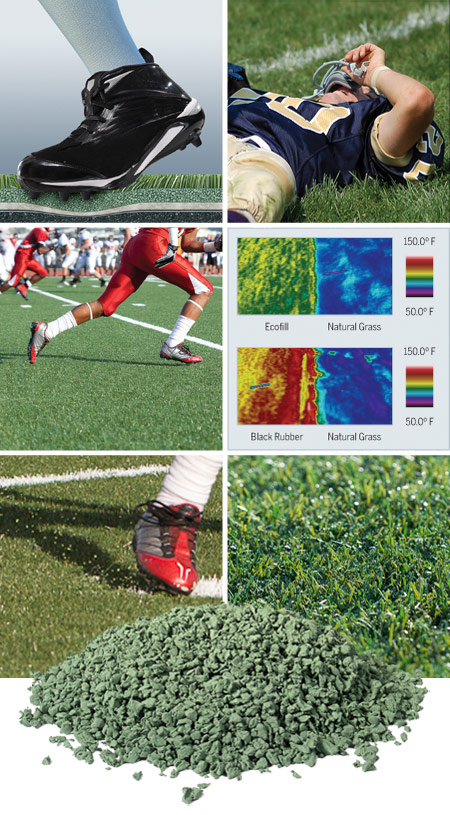 Plays Like Natural Grass
Mondo's goal is to ensure that the Mondoturf systems deliver the appropriate amount of shock absorption and energy return, the key elements in determining the feel, performance, and safety experienced on a natural grass field. Mondo's turf research found that Ecofill produced results that were closest to a well-maintained natural turf playing field.
Enhanced Safety
Ecofill creates consistent resiliency across the entire playing field ensuring consistent HIC and GMax results which reduces the risk of head injuries. Furthermore, Ecofill efficiently absorbs the impact caused by the weight of the player, allowing the player to pivot, plant, turn, twist, and take-off without the risk of getting "caught in the turf." The great dimensional memory shown by Ecofill guarantees a perfect energy return.
Enhanced Performance
The superior dimensional memory shown by Ecofill and the Fine Tuned underlayment guarantee a perfect energy return. This ensures the athlete will be able to plant, pivot, turn, and accelerate to the best of their ability.
"We wanted a fast field, and the Mondo field is very, very fast. This is the Lamborghini of fields."
George Rush – Head Coach
City College of San Francisco
Less Radiant Heat
Compared to Ecofill, traditional black rubber granules will increase the temperature that radiates from the field by 79.8%. The extra heat that radiates from fields with traditional black rubber granules increases fatigue and discomfort reducing the athlete's performance.
The table to the left show thermal images and their statistical data taken on two adjacent fields, on infilled with Ecofill and the other with black rubber infill. Both images were taken the same day, with the same meteorological conditions and sunlight angle.
Low Migration
Ecofill is 40% more dense than traditional infill. High density reduces granule migration providing a more uniform and stable field. It improves athletic performance and reduces injuries.
"When the water cleared, not only had the infill not migrated, but the field looked fabulous and was already playable."
Paul O'Malley – Assistant Superintendent
Niles Township High School
Environmentally Green
Ecofill is 95% recyclable and free of heavy metals, amine aromatics, and PAHs. Mondo has long been committed to producing products that minimize impact on the environment and contribute to a healthy atmosphere.
Downloads